A Brief History of Us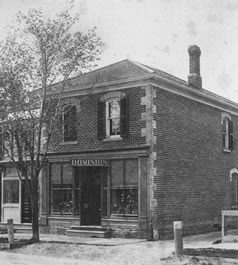 Our location at 34 Main Street is entrenched with history as a part of the Markham area: Markham Township was originally surveyed in 1793-1794 and was named after Archbishop William Markham of York, England by John Graves Simcoe, the Lieutenant-governor of Upper Canada. William Markham never visited his namesake.
As people settled in the township in the early 1800's, the east corner of Hwy.48 and 7 (Lot 11, Conc.8) was sold to Joseph Reesor, one of a large number of Pennsylvania-Germans who were to make this area their home. A few years later, several homes stood on his corner. This small community was known as Reesorville. Later, it was referred to as Mannheim (German for 'man's home'). by 1828, when the post office (53 Main St. S.) opened, the hamlet adopted the township's title, Markham.
34 Main Street was built around 1880 and was originally a drug store and residence, owned by Dr. John Doherty. It was subsequently sold in 1887 to William Fleming, a Canadian checker champion from 1868 to 1890 whose memorial stone in St. Andrew's Cemetery east of Main St. south of Hwy 7, has been inscribed with a checkerboard. The building served as his residence and later a retail store for pianos, organs and sewing machines. It is presently owned and operated by Dr. Rory Hunter, a dentist whose practice is also in the building.
Dr. Barry Shapero and Dr. Allan Davis founded our orthodontic practice in 1979. Dr. Davis retired from the practice in 1999. Dr. Bennett Mui joined Dr. Shapero in 2001. Dr. Shapero retired from the practice in 2012. Over the past 30 years, we have been and will continue to be dedicated to assisting our patients to improve their self-confidence by building better smiles as well as improving their oral health. We are privileged to be seeing the children of many of our former patients. Moreover, we have been an integral part of the Markham area by contributing to the community at large, including fundraising events of various community groups such as Girl Guides and supporting the various sports teams over the past many years.
We enthusiastically support the following organizations: