A Brief History of Us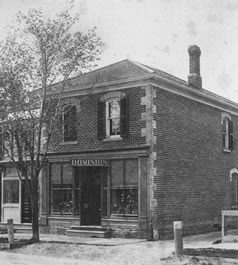 The land on which we are privileged to be is the traditional territory of the Wendat, Anishinabek Nation, the Haudenosaunee Confederacy, the Mississaugas of Scugog, Hiawatha, and Alderville First Nations and the Métis Nation. This territory is the subject of the Dish With One Spoon Wampum Belt Covenant, an agreement between the Iroquois Confederacy and the Ojibwe and allied nations to peaceably share and care for the resources around the Great Lakes. The treaties that were signed for this particular parcel of land are collectively referred to as the Williams Treaties of 1923.
Our location at 34 Main Street is entrenched with history as a part of the Markham area.
34 Main Street was built around 1880 and was originally a drug store and residence, owned by Dr. John Doherty. It was subsequently sold in 1887 to William Fleming, a Canadian checker champion from 1868 to 1890 whose memorial stone in St. Andrew's Cemetery east of Main St. south of Hwy 7, has been inscribed with a checkerboard. The building served as his residence and later a retail store for pianos, organs and sewing machines.
Dr. Barry Shapero and Dr. Allan Davis founded our orthodontic practice in 1979. Dr. Davis retired from the practice in 1999. Dr. Bennett Mui joined Dr. Shapero in 2001. Dr. Shapero retired from the practice in 2012. Over the past 30 years, we have been and will continue to be dedicated to assisting our patients to improve their self-confidence by building better smiles as well as improving their oral health. We are privileged to be seeing the children of many of our former patients. Moreover, we have been an integral part of the Markham area by contributing to the community at large, including fundraising events of various community groups and supporting the various sports teams over the past many years.
We enthusiastically support the following organizations: